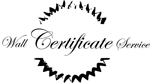 Wall Certificate Service is the designated provider of these Certified Public Accountant products for the state of Georgia.

This item is a certificate only. The Certified Public Accountant certificate dimensions are 11 X 14, paper stock color is Antique White and the agency seal is gold embossed foil.

License card size is 3.375" x 2.125", 30mil thickness (standard credit card size). The card material is polyvinyl chloride most commonly known as PVC, widely used in card manufacturing.